Searching the Schedule of Classes
Due to the interdisciplinary nature of HDS, most of our courses are offered by other departments. This can make searching the UCSD schedule of classes for HDS courses somewhat difficult, as it requires almost 20 separate searches to check on our entire curriculum when searching by subject or department.
To make your search easier and more efficient, HDS majors should learn to look for their classes by "CODE."  

If you go to the publicly available Schedule of Classes (not WebReg), look at the first search page of the schedule, "By Code(s)" is the third tab under "find courses." Select this tab.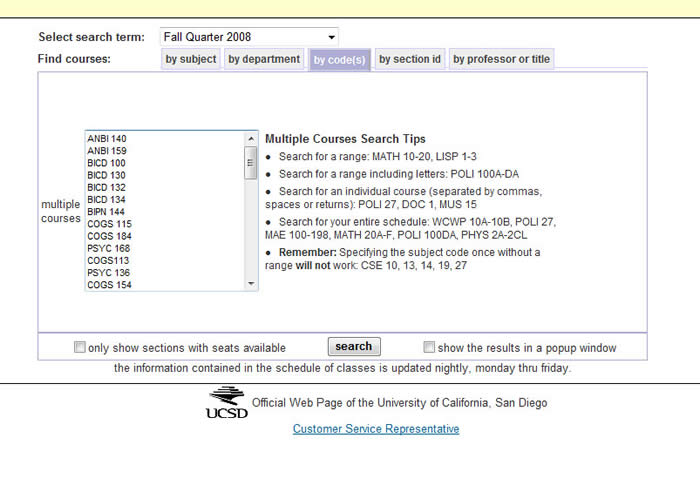 In this section, you can then just type in the exact courses you are interested in searching for (Math 10A, PSYC 168, LTWL 114). You can also "paste" in a list of courses that you are interested in. Once you click the search button, you will receive a list of all courses available from the ones that you entered into the search query, and their schedule information.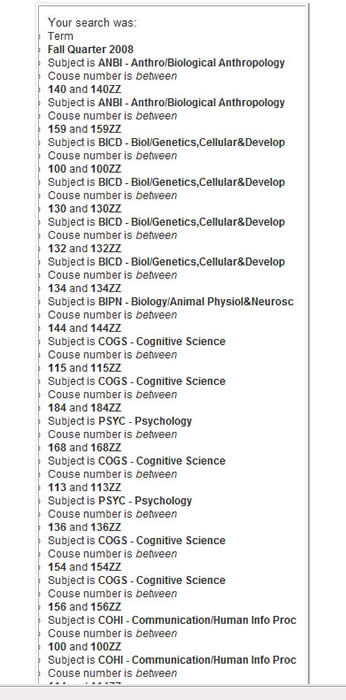 HDS majors are encouraged to use this search feature, as they can easily paste in all relevant courses for a particular requirement that they need to fulfill. A simple list of all HDS courses is included below for you to cut and paste into this search field on the schedule of classes.
Lower Divison
HDS 60


--For students admitted prior to Fall 2021--
PSYC 60
COGS 14B
MATH 11
MATH 10A
MATH 10B
MATH 10C
MATH 20A
MATH 20B
MATH 20C
CSS 1
CSE 6R
CSE 7
CSE 8A
CSE 11
--BA Option Only--
PHIL 10
PHIL 12
LIGN 17
ANTH 2
BILD 1
BILD 2
BILD 3
BILD 12
BILD 20
BILD 26
BILD 38
COGS 17

--BA Option Only--
BILD 7
BILD 10
BILD 18
COGS 11
PSYC 2
ANTH 1
ANTH 3
CAT 1
CAT 2
COMM 10
COGS 1
FMPH 40
FMPH 50
HILD 7A
HILD 7B
HILD 7C
LIGN 4
LIGN 7
LIGN 8
LIGN 101
MMW 11
MMW 12
MMW 121
MMW 122
PSYC 1
PSYC 3
PSYC 6
PSYC 7
SOCI 1
SOCI 20
SOCI 40
SOCI 70
Upper Division
HDS 110
HDS 111
ANBI 111 
BIPN 144
--Social-Cognitive--
HDS 121
HDS 122
PSYC 187

--Language--
HDS 120  
COGS 156  
LIGN 171
HDS 133
ANSC 126
ANSC 168
COMM 112C
HITO 126
ANBI 116
ANBI 130
ANBI 140
ANBI 159
ANBI 173
ANTH 102
BICD 100
BICD 112
BICD 130
BIPN 134
BIPN 144
BIPN 148
COGS 115
COGS 184

--BA Option Only--
PSYC 132
PSYC 168
PSYC 171
COGS 154
COMM 100A
COMM 168
LIGN119
EDS 119
LIGN 179
PSYC 101
PSYC 130
PSYC 132
PSYC 136 
PSYC 141
PSYC 146
PSYC 156
PSYC 168
PSYC 171
PSYC 172
PSYC 173
PSYC 180
PSYC 187
PSYC 190
ANBI 159
ANSC 101
ANSC 125
ANSC 126
ANSC 127
ANSC 167
COMM 102C
COMM 126
EDS 115
EDS 117
EDS 118
FMPH 110
FMPH 120
HDS 171
HDS 173
HDS 175
LIGN 174
LTWL 114
LTWL 116
LTWL 177
PSYC 180
PSYC 190
SOCI 117
SOCI 116
SOCI 129
SOCI 131
SOCI 143
SOCI 159
SOCI 161
SOCI 184
USP 134
USP 145
USP 147
HDS 193
HDS 194B
ANSC 172
COGS 120
COMM102C
EDS 130
EDS 131
EDS 136
FMPH 102
SOCI 110
HDS 160
HDS 150